Local Support: Jacob And The Appleblossom!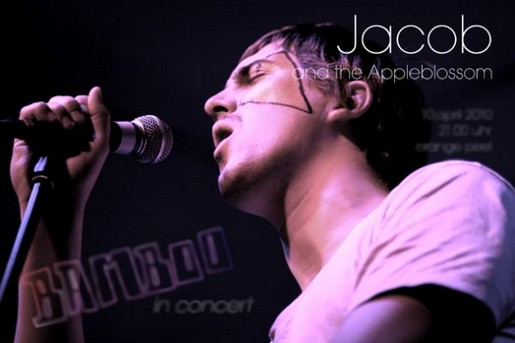 Das neue Projekt von Jacob Vetter, dem Sänger der Band Wagner Love, geht richtig ab. Toller Gesang gepaart mit Funky Beats, gefällt mir verdammt gut.
"Jacob And The Appleblossom" is the new project of Wagner Love singer Jacob Vetter and producer Afrit (Eastenders and 200 Sachen). In the course of the last year they produced a debutalbum that contains a fine mixture of soul, hiphop, electronica, jazz and pop and is not afraid of experiments. [..] Flute and saxophone meet synthesizers, hiphop beats and soulful vocals. Up, up and away!!!
Weitere Hörproben gibt's auf der Myspace Seite von Jacob And The Appleblossom. Dort solltet ihr euch auf alle Fälle den Song "Computertruth" im Player anhören. Zu sehen gibt es Jacob und seine Spielgefährten am kommenden Dienstag, den 13. April 2010 beim "Red Light Tuesday" im Mainzer Redcat Club.