Turn up the volume: Love is Louder!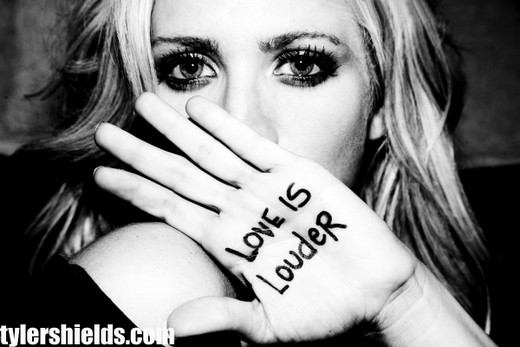 Die hübsche US-Schauspielerin Brittany Snow (auf den ersten beiden Fotos) hat die schöne "Love is Louder" Kampagne ins Leben gerufen, um daran zu erinnern, am 19. Oktober 2010 Liebe zu verteilen. Die hier zu sehenden grossartigen schwarzweiss Bilder durfte der Fotograf Tyler Shields beisteuern.
This movement strives to amplify the momentum of other inspiring online campaigns and invite anyone who has felt mistreated, misunderstood or isolated into the conversation. We are here to raise the volume around a critical message — that love and support is more powerful than the external and internal voices that bring us down, cause us pain and make us feel hopeless.
Macht mit und unterstützt das Projekt am kommenden Dienstag, den 19. Oktober!
Mehr auf der offiziellen Love is Louder Webseite und dem Fotoblog von Tyler Shields.